Deliver technical documents with interactive 3D using industry standard HTML5. Cross-platform, any modern browser, zero-footprint solution (no client-side install).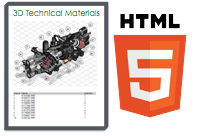 View and interact with technical documentation using Chrome, Firefox, Internet Explorer, Edge, Chrome or Opera on PCs, Macs, Androids and iOS devices.
Online Part Catalogs
---
Publish and maintain part catalogs with intuitive 3D drill-down features.
Easily drill-down to individual parts
Eliminate time-consuming ballooned views
Customize the look and interactive behavior
Reduce part identification errors with 3D
3D Instructions
---
Create and share 3D instructions with the shop floor, field service or end users.
Improve process learning time with 3D
Simplify page layout for your shop floor
Reduce update time when 3D CAD changes
Create 3D instructions rapidly
3D-Enabled Portals
---
Create and manage user portals for dealers, service representatives or customers.
Native HTML5-based 3D, no client plugins
Control access to documentation
Custom branding with CSS/HTML
Manage document hierarchy and versions
Share3D Cloud Services
With a Share3D cloud account, the server will run on a cloud computer. Hosted on Amazon secure servers, Share3D updates are automatic and primary advantages include cost-savings and no maintenance-related worries.
Share3D On-Premise
With an On-Premise license, your Share3D based web-applications will be hosted on your own server. In this case, you have total control over your application's performance, security and content.
.HTML Files and Folders
With Share3D-Ready technical publishing products, you can create .HTML files and folders that are Powered by Share3D and ready for inclusion in any website.